Greetings Everyone and HAPPY HAPPY NEW YEAR!!!!
I hope you all have had a great first week of the brand new year and that you started your new year off right....whatever that means for you :) Here is my first Sunday Social of the year 2013 with many more to come....enjoy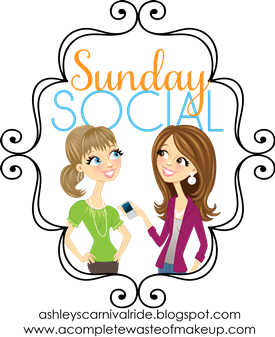 1. Do you plan to change any of your eating habits in the new year?
Uhh NO LOL....I do plan to do a few fasts' this year but not really changing my eating habits. Well now that I am writing this I may try and eat more, the one meal a day isn't really cutting it :( so maybe I will work on eating a little more throughout the day.
2. Any workout tips to get us back in shape after the Holidays?
If you get workout tips then you must use them throughout the year, its not a "lets get in shape after the holidays and when the next holiday rolls around lets pig out again" what would be the point?? Best workout tip.....MOVE, start walking, take a walk during your lunch break, if you get an hour walk the first or last half hour of your lunch and then eat something the next half hour. Just keep moving....
3. What is your favorite thing you did over the Holidays?
Spending time with friends....Since I do not have family out here or much of it in general my friends are my family, so I traveled through So Cal and visited friends, did some shopping, went to my first comedy club and other things...fun fun fun
4. What is something you hope that you accomplish in 2013 that you did not in 2012?
Master this natural hair thing, lose a few pounds, hopefully meet my guy, travel, pay off or get out of debt.
5. Name 3 things happening this year you are excited about and why.
I don't necessarily have anything planned this year so I am not excited about anything really. I hope I get to visit my hometown this year and see my grandmother, I hope to travel some and possibly get to a blog convention or
something
like
that...that would be lovely. Basically I am gonna see what God has in store for me this year and what great things are yet to come..
Okay now it is your turn, so feel free to answer the questions, and don't forget to either grab my button, share, comment, subscribe and let me know you did so I can do the same for you.
Have a beautiful Sunday!!
SS

<3